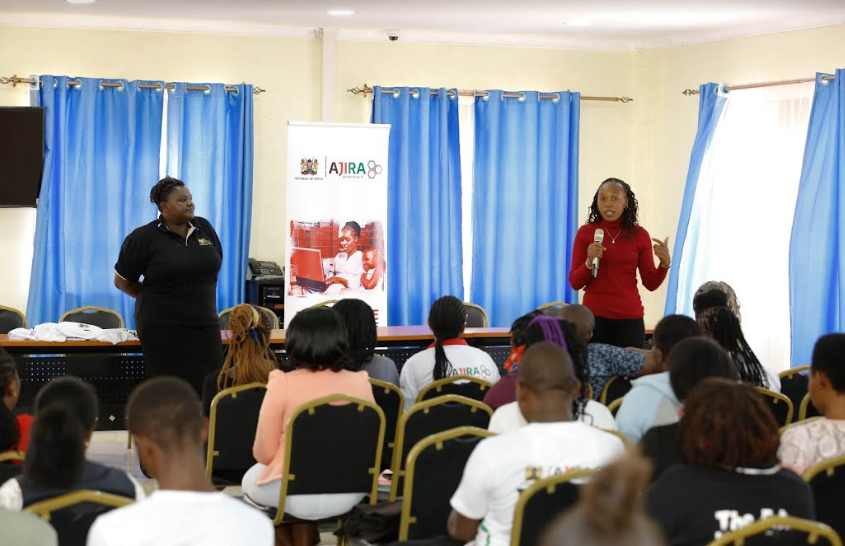 Over 70 young women from central region met at Kirinyaga Central Ajira Youth Empowerment Centre.
Ajira Digital, Partners Equip Young Women on Digital Workspace
Ajira Digital in conjunction with its partners organized an online workers' community networking confluence which attracted over 70 young women from central region at Kirinyaga Central Ajira Youth Empowerment Centre. The ladies share experiences, opportunities and peer to peer mentorship to boost their individual and collective advancement in professional "websphere."
The meeting was made possible by among others eMobilis, under the theme "DigitALL: Innovation and Technology for Gender Equality" and comes at a time when the disparity between women and men in relation to digital adoption and their relative opportunities to access, use, and benefit from digital technology remain a major barrier to equal participation in online work and e-commerce.
The Ajira Digital programme, is an initiative for the government under the Ministry of Information Communications and the Digital Economy, aimed at providing an end-to-end solution for young people to work and earn online. The programme is financially supported by Mastercard Foundation and implemented by eMobilis and Kenya Private Sector Alliance (KEPSA).
eMobilis is charged with the operationalization of Ajira Youth Empowerment Centers (AYECs), the institutionalization of Ajira Clubs in Universities and Technical and Vocational Educational Trainings (TVETs) as well as the implementation of training and mentorship across the country.
eMobilis Managing Director Ken Mwenda emphasized the need for empowering over one million young people annually to access fulfilling and meaningful work opportunities from the online ecosystem with 70 per cent of this being young women.
KEPSA supports in catalyzing digitization for the private sector and e-government to create demand for the digital and digitally-enabled work skills offered by the programme.
It is a free programme open to all young Kenyans who are looking to make a dignified livelihood from digital and digitally-enabled work opportunities.
"In terms of skills development, operationalization of AYECs and institutionalization of Ajira Clubs which eMobilis is mandated to do, we have seen over 220,000 young people trained on digital and digitally-enabled work skills with 53 per cent being young women. As a way to entrench the online work among young people beyond training, mentorship and job linkages, we also continue to support the idea of building robust online workers' communities geared towards bringing young people together to encourage them to do peer to peer mentorship, networking and opportunity sharing," said Mwenda.
"A women-only online workers' community meet-up as this held at Kirinyaga Central Ajira Youth Empowerment Centre has seen more young women coming together to share their experiences, opportunities and learn from each other on how they can navigate around and harness the full benefits of digital economy through digital and digital enabled work opportunities," he also added.
Regional Coordinator for Lower Central Hellen Kimindiri said the only women online meet up featured over 70 women in digital space who were taken through different online platforms that they could earn from.
"The women working online were exposed to different online platforms including Fiver, Remotask, Upwork, click worker, Guru among others. Our main focus was to show them other new avenues where they can earn their living. The sessions were interactive because women were able to share ideas on how they can maneuver in digital space," Kimindiri said.
"Ajira has introduced new modules such as Artificial Intelligence, advanced excel and also assistive technologies to introduce people with disabilities into the digital economy. Other training that young people, particularly women, can access free of charge include graphic design, web development, programming, and financial literacy among others," she added.
Ms. Susan Gichobi, a programme participant who is a person living with disability shared her story of how she got to know about the programme and how it has impacted her life.
"I discovered the Ajira Digital programme in mid-2022, which opened up a whole new world of opportunities for me. I was trained in content writing, digital marketing, and data entry under the guidance of my mentor. After training and mentorship, I have been able to secure gigs on Remotask and Upwork to earn a dignified income. Currently I am also involved in writing online novels and have so far delivered over 10 chapters and built a portfolio," said Ms. Gichobi
"I have learnt many tricks on how to succeed in online work and achieve my dream to create a platform where other young women and persons living with disabilities can monetize their writing skills," she added.
Another participant Mary Wambui said she came to know about Ajira at a time when she was pursuing a Public Administration course at Karatina University from the Ajira team who had visited the institution to publicize the programme in 2020. She was able to learn digital marketing, ecommerce and data entry. Currently, she is looking to take up the Ajira advance training on web development.
"Today's meet-up has been very impactful as I have been able to interact with other online writers, data entry, content writers among others who will impact on my skills and I will be able to do more than what I usually do. The online work needs consistency," Wambui said.