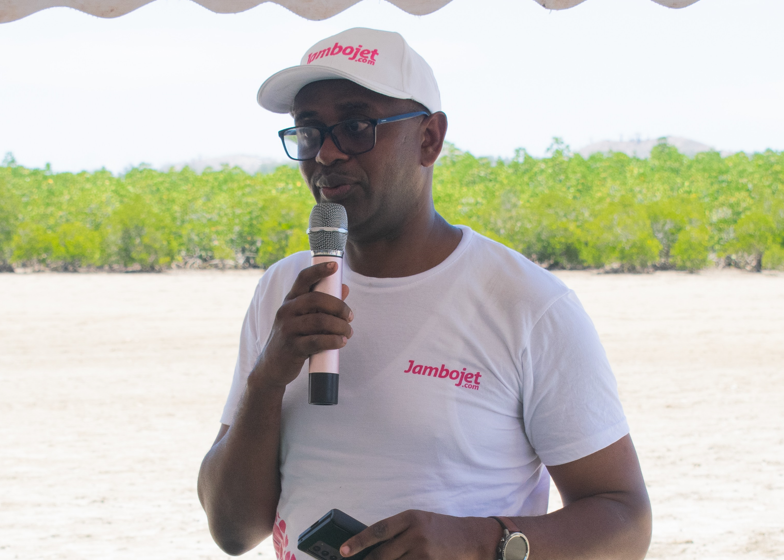 Jambo jet Chief Executive Officer Karanja Ndegwa
Jambo Jet in Partnership to Restore Mangrove Ecosystem
Jambo jet Chief Executive Officer Karanja Ndegwa says that the domestic airline, has in partnership with Big Ship, a community based organization (CBO) to help restore the mangrove ecosystem in Ganahola, Jomvu Sub-County.
Through an adopt-a-site programme, the partnership has so far planted 3000 seedlings.
Mr. Ndegwa stated that environment conservation is Jambojet's lead Corporate Social Responsibility (CSR) main activity in the company's calendar of events aimed at achieving carbon neutrality through the planting of trees.
"Our target is to plant two million trees to augment the government plan to plant 15 billion trees by 2032 to mitigate the effects of climate change," said Ndegwa. "We have planted more than 100,000 trees in most parts of Nairobi and the Rift Valley region through our partners in forests conservation. Now in Mombasa, we have partnered with Big Ship CBO and have adopted one hectare as we progressively take more as we move on."
The Director of Big Ship CBO Bosco John Juma says the organization has targeted to plant two million trees by 2026 adding already they have planted over 250,000 trees which cover about 15 hectares of mangrove.
Mangrove trees, Juma said, absorb carbon ten times more than any other tree in the universe hence reducing the carbon emissions in the environment.
Since its inception in 2010, the CBO that also focuses on community empowerment and solid waste management has restored more than 15 acres of mangrove zones along Tudor creek.
Mombasa County Chief Executive Officer for Environment Amir Ghalib said the governor has directed planting of 5 billion trees by 2032 and assured organizations involved in environmental conservation initiatives of the County Government's support.