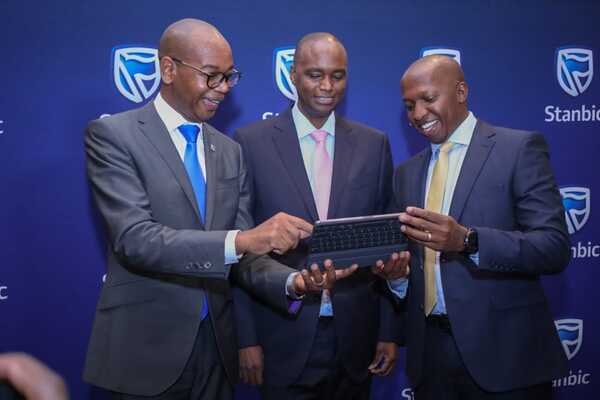 Stanbic Bank has been performing well over the years
Stanbic Holdings PLC reports Kes 9.1 billion profit in 2022 and a 55% dividend payout
Profitability grew by 26% bolstered by double digit growth in revenue and customer loans, increased operational efficiencies and judicious risk management.
Newly appointed Chief Executive signals a new business growth strategy phase.
Stanbic Holdings Plc has announced a KES 9.1 billion after-tax profit for its financial year ended 31 December 2022.
The listed financial services provider, a member of Standard Bank – the leading African Financial Services Group – attributed the 26% after-tax profit growth to strong revenue and balance sheet growth.
Stanbic Kenya and South Sudan's Chief Executive, Mr. Joshua Oigara said the firm's strategic plan formulated and adopted three years ago continues to facilitate growth and organizational resilience. He noted that the strategic plan founded on digital innovations for service delivery, enhanced consumer experience and increased operating efficiencies had translated to an accelerated balance sheet growth.
"Despite the uncertain and challenging operating environment last year, the business delivered strong results, thanks to focused execution across our strategic plan. The plan is anchored on catalytic growth pillars such as customer service excellence and technology integration to boost operating efficiencies. We can see the payoff whilst providing a good launchpad for the next three-year strategy to be unveiled later this year," Oigara said.
Buoyed by a diversified portfolio of corporate, commercial, investment and retail banking financial solutions, the lender posted a 28% revenue growth to close at KES 32 billion in the period under review. Customer deposits increased by 12% to stand at KES 272 billion, while loan and advances to customers were up 27% to close at KES 236 billion, highlighting the Bank's commitment to supporting economic growth and development.
Shareholders at the Nairobi Securities Exchange (NSE) listed firm will, subject to approval at the next Annual General Meeting, enjoy KES 4.98 billion in dividends, being 55% of the 2022 profit after tax and representing a 40% increase in total dividend payment from previous year's KES 3.56 billion.
Stanbic Holdings Chief Financial and Value Officer Mr. Dennis Musau noted that the significant progress on its strategic plan and requisite measures made by the Bank over time have cumulatively contributed to its strong growth momentum.
"Over time, we have made investments to drive faster customer acquisition, efficient and convenient service and internal operational efficiency. The outcome of these efforts is evident in our Cost to Income ratio which reduced from 50.9% in 2021 to 46.7% in 2022, boosting our Return on Equity to 15.3%, up from 13.3% in 2021." said Mr. Musau.
"Along the same grain of customer focused investments, as the East African region continues to thrive as one of the fastest growing regions on the continent, Stanbic launched borderless banking in 2022 which enables customers to transact seamlessly and real-time across Kenya, Uganda, Tanzania and South Sudan. To date, this platform has facilitated more than USD 800M worth of transactions across the countries and contributed non-funded revenue to the bank" Musau added.
Stanbic has been intentional in its focus on diversity and inclusion, with a specific focus on women. Through the Dare to Aspire Dare to Achieve (DADA) platform, the Bank has committed KES 20 billion (approximately USD 185 million) to finance women. Since its launch 3 years ago, the platform has attracted more than 53,000 new to bank 'Dadas' and disbursed loans amounting to KES 7.7B.
Stanbic has consistently funded Micro, Small and Medium Enterprises (MSMEs). As at end of December 2022, the Bank issued a cumulative of KES 33 billion to these entities under its Business and Commercial Banking business segment. In addition, through the Stanbic Foundation and strategic partners, the Bank disbursed KES 76 million in grants and catalytic funding to over 400 MSMEs in the country.
The Bank continues to change and transform the community through their Social, Economic and Environment (SEE) initiatives aligned to the United Nation Sustainable Development Goals (UNSDGs). Stanbic Bank's SEE initiatives are championed by the Stanbic Kenya Foundation and are focused on economic empowerment, financial inclusion, promotion of education and health.
The Foundation's Accelerate Program has been instrumental in positioning Kenyan businesses for success by addressing digital skills gaps, boosting entrepreneurship and enhancing employability of beneficiaries through digital literacy and upskilling, career development, and access to grant funding and job markets. The milestones achieved have been as a result of working together with partners in the development, public and private sectors.
As a trusted financial institution, the Bank's contribution has been recognized through various awards such as Kenya's Best Investment Bank, Best Trade Finance Bank, KEPSA Gender Mainstreaming Award (The Women on Boards Network, 2022), Financial Leadership Award Winner (Women Business Awards 2022) and Overall winner of the Financial Reporting Awards (FIRE Awards, 2022).
In December 2022, Stanbic Board of Directors appointed Mr. Joshua Oigara as Chief Executive of Stanbic Bank Kenya, and South Sudan, following the retirement of Mr. Charles Mudiwa, after two decades of illustrious service to the Standard Bank Group. Mr. Oigara's leadership will be instrumental in driving growth and development of the Bank, as he steers its growth momentum, investment in digital transformation, and contribution to the prosperity of the communities it serves.