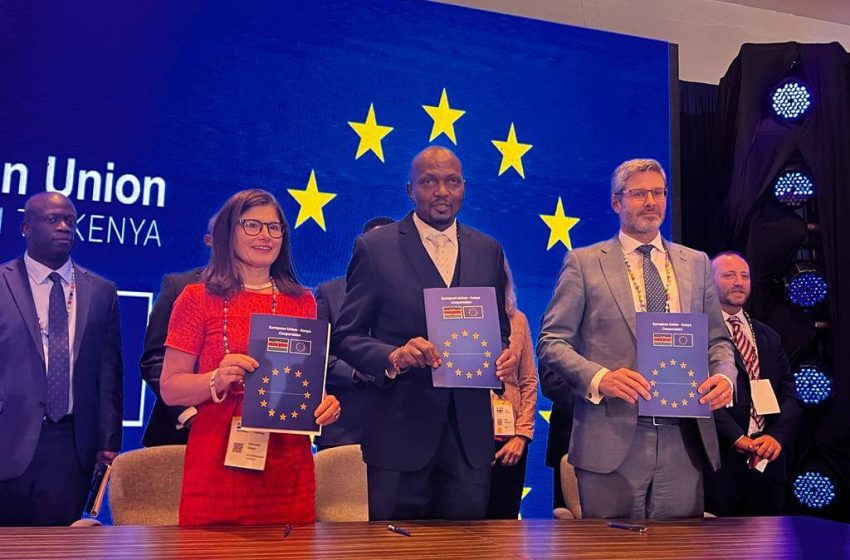 The EU's pledge is a shot in the arm for a country struggling for FDI
European Union invests Euro 25 million to Spur Kenya's Exports
The European Union has today announced a funding of Euro 25 million to TradeMark Africa (formerly TradeMark East Africa) to facilitate a five-year programme that will boost Kenya's exports and support the Government in creating a conducive trade environment. Moreover, the programme will aim to create a more environmentally sustainable export eco system that will reduce the carbon footprint of exports. The European Union Ambassador to Kenya H.E Henriette Geiger and TradeMark Africa's Chief Executive Officer Mr. David Beer signed the agreement in the presence of Kenya's Cabinet Secretary for Investments, Trade and Industry Hon. Moses Kuria during the ongoing EU-Kenya Business Forum that's is taking place in Nairobi.
The programme, named Business Environment and Export Enhancement Programme (BEEEP), will build on interventions already supported by the Government of Kenya and will complement the goal of the Integrated National Export Development and Promotion Strategy (INEDPS) that seeks to grow Kenya's agricultural exports. The goal is to close the negative balance of trade through export growth, factor productivity and stimulating economic development and job creation, in a sustainable and inclusive manner.
Commenting about the programme before the ceremony, European Union Ambassador to Kenya Henriette Geiger said; "With BEEEP everything comes together, the private sector, the government and financing institutions. We are happy to support the Kenyan government in achieving a sustainable growth of its exports, including greening of transport and logistics. BEEEP aligns fully with our Global Gateway Strategy. The EU support to creating a more conducive business environment both at national and county level will make Kenya an even more attractive destination for investments."
TradeMark Africa Chief Executive Officer, David Beer has lauded BEEEP as an initiative that will support Kenya to expand and green her export base. "While Kenya's export growth has been consistently strong, it can be much stronger. The opportunities in the next ten years will come from developing low carbon supply chains, enabling Kenya to take a larger share of world markets. We look forward to partnering with the government and private sector to help make this happen for Kenya's horticulture exports – avocado, mango and vegetables. We think these have the strongest potential to boost exports, add value and create jobs."
BEEEP will focus on solutions that resolve supply chain constraints, and storage and logistics challenges; improve processing, value addition and information access; and enable reforms that will enhance the business environment. Interventions will include increasing supply of locally produced goods that meet export market requirements, reduced trading times and costs, and helping shift export supply chains from air freight to sea freight. Other areas of support include harmonising trade processes and procedures, improving access to quality standards and phytosanitary measures, as well as enhancing capacity of public sector actors to implement necessary business reforms at the national and county levels.